Staff
Gary Salm — Pastor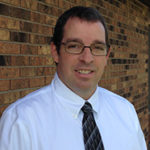 Pastor Gary has been serving at CUC since November 2007.  His wife Lori and their three children have become an integral part of our church family.  In June 2016 he received his Masters in Ministry, Pastoral Care and Counseling from the Seminary at Lincoln Christian University.  Gary is outgoing, energetic and serves this congregation with great love and compassion.  
Brandon Bogue – Youth Pastor
Brandon was called to serve CUC in early 2014.  He loves working with young people and has a strong desire to see students meet and develop a lasting relationship with Jesus Christ.  Brandon and his wife have twin daughters, so life is full and fun.  
Heidi Malone — Secretary
Heidi is a member of CUC and has served in the office for 10 years.  She is married and mom to two grown children.  She's also enjoying her role as grandmother.  Heidi's joy is to encourage, care for and serve alongside the people of her church family.
Jennifer Brace — Bookkeeper
Jenny joined our staff in September 2016 and works part time in the office.  She's a wife and mom who loves to volunteer and thoroughly enjoys the flexibility of her current position.  
Dawn Clark – Music Coordinator
Dawn is a gifted musician who volunteers her time and many talents serving as pianist, choral director, etc.  She loves to meet new people and help them find places to use their talents as well.  
Lori Salm – KidZone and Children's Ministry Coordinator
Lori is married to Pastor Gary and contributes a great deal of time and energy to the ministries of CUC.  She manages the Sunday KidZone program, plans/leads monthly special events for our children, and helps our great staff of volunteers.  As a mom of three children, Lori never knows a dull moment.